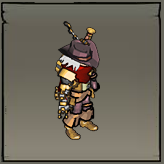 Description
Edit
Packing their skystone powered rifles, Rangers strike the enemy from far off. 
General Information
Edit
Requires: Level 2 Barracks.
Permanent stats: Size 1, Speed 50, Armor 0.

The Ranger is just like his blade wielding brother; the swordsmen. He is small, cheap, but weak alone, and should be mass deployed.
However, the Ranger possesses an advantage; his steampowered gun. The ranger's rifle has great range, and easily ou-ranges the area of effect towers-- if it is upgraded. Yet this extra bit of range could be the difference between survival and disappearing a purplish pink gas.
It is common to see a mixture of Swordsmen and Rangers for deployment, and is best when supported by a few higher tiered units.
Level Stats
Edit
| Level | Health | Damage | Range | Food Cost | Building Time |
| --- | --- | --- | --- | --- | --- |
| Level 1 | 8 | 10 | 2 | 10 | 1 Min |
| Level 2 | 20 | 13 | 3 | 20 | 2 Min |
| Level 3 | 40 | 16 | 3 | 50 | 2 Min |
| Level 4 | 60 | 20 | 3 | 200 | 3 Min |
| Level 5 | 125 | 25 | 4 | 1000 | 5 Min |
| Level 6 | 200 | 35 | 4 | 2000 | 5 Min |
| Level 7 | 300 | 50 | 5 | 3000 | 7 Min 30 sec |
| Level 8 | 400 | 70 | 5 | 4000 | 7 Min 30 sec |
| Level 9 | 525 | 85 | 5 | 6000 | 7 Min 30 sec |