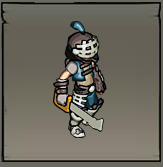 Description
Edit
Brandishing swords made of steel, the Swordsman is the backbone of any army.
General Information
Edit
Requires Level 1 Barracks
Permanent stats: Size 1, Speed 50

A Favorite of Heroes everywhere, This small soldier is no doubt the backbone of the Syrellian army. His small Size in a garrison and his Exceptionally small Cost and build time has allowed MASS recruitment of these units in a short amount of time.
However he is not without flaw, When alone he can be easily wiped out by a lone archer tower,Flame bunker, or Mage tower in an instance. That's why he is such a small sized unit, so you can put him in the field with 10 or more of his swordmen brothers. Or better yet, To Field him with various other unit types such as Rivets and Mages.
(Tip: The Swordsmen rush can easily mop the floor with heroes.)
Level Stats
Edit
| Level | Health | Damage | Armor | Food Cost | Building Time |
| --- | --- | --- | --- | --- | --- |
| Level 1 | 20 | 4 | 0 | 10 | 12 Sec |
| Level 2 | 30 | 7 | 0 | 10 | 12 Sec |
| Level 3 | 75 | 10 | 0 | 25 | 30 Sec |
| Level 4 | 100 | 14 | 0 | 150 | 1 Min |
| Level 5 | 250 | 20 | 2 | 500 | 2 Min |
| Level 6 | 440 | 25 | 4 | 1500 | 3 Min |
| Level 7 | 590 | 30 | 7 | 1800 | 4 Min |
| Level 8 | 720 | 40 | 10 | 2500 | 5 Min |
| Level 9 | 900 | 50 | 12 | 4000 | 5 Min |